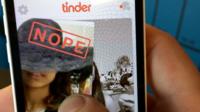 We've all been there. Idly swiping through Tinder, dismissing people at will... then disaster strikes.
In a momentary lack of concentration you accidently swipe left across the face of "the one".
Well, in a bid to end those heart-stopping moments, (and to make more money) Tinder has announced plans to introduce a paid Undo service.
Tinder Plus is what it will be called. But would you be willing pay extra for it?
"The most-requested feature we get is a button to go back and have a second chance with people that users swipe left on," said Tinder co-founder Sean Rad.
"Everyone has wanted it from the beginning. It's absolutely at the top of the list."
Whether you're a paid user or not, there'll be no avoiding the temptation of the new feature.
Tinder plans to put a big yellow Undo button on the home screen, in the hope it will encourage people to cough up the cash to use it.
But that's not the only feature of the proposed premium service, according to TechCrunch.
Passport feature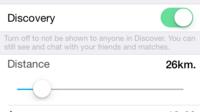 Tinder Plus will also include a Passport option on the far right of the home page.
It will let people search for matches outside the current 100 mile restriction area, opening up the possibility of matching up with people from cities all over the world.
"We often hear that people want to be able to start swiping in a location before they've left to go on a trip or holiday, and that once they've actually made a meaningful connection with someone in a new location, their trip has come to an end," said Rad.
"We also hear people saying that they want to get recommendations for places to go and where to eat in a new city, and Tinder Plus can do better at that."
Despite Rad's enthusiasm for the feature, there is a potential downside.
It'll mean regular users who are choosing to search for a specific location may be served potential matches a long way from where they live.
Rad, though, doesn't see that being an issue.
"We don't think it'll be a big enough problem where it will hurt the experience to search locally," he said.
"A lot of users will be paying for the feature, and the voyeuristic quality probably isn't enough of a value add as opposed to those who are actually travelling."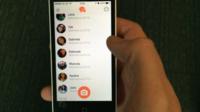 Tinder is almost two years old and has received some investment, but has yet to generate any revenue.
"We need to keep the company afloat and make money to invest in innovation," said Mr Rad.
It's thought Tinder Plus is going to be rolled out first in a few select countries, including the UK.
The company hasn't decided on monthly prices for the features yet.
Instead they'll be testing a number of costs from around 60p to £12.50.
"We think different people will pay on a wide range, but we want to find that sweet spot that most users can agree on," said Rad.
Once they see how popular the service is and iron out any teething problems, Tinder will figure out a set price and launch the premium version of the app globally.
Tinder hacks
Mr Rad said that the company had also been observing the success of "Tinder hacks" - people using the platform for reasons other than finding a date.
"Whether it's using Tinder to get local recommendations when travelling or trying to make friends or doing business - we hear all the time that people are cutting deals on Tinder," he said.
"Whether you're an artist trying to get your music out there or trying to get fans... people use Tinder to get more followers on Instagram.
"We're now learning from our users and those hacks to find the next opportunities."
The company has not released user numbers but in April 2014 analytics firm Comscore said there were 2.7 million smartphones using Tinder in the US alone.
Follow @BBCNewsbeat on Twitter and Radio1Newsbeat on YouTube